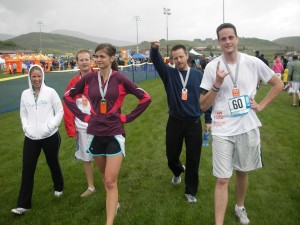 After 32 hours, 13.4 miles of running, and 2 hours of sleep, I'm back from the Wasatch Back Ragnar Relay of 2009.  Thanks to Chase & Lindsey Brammer, Kellie and I were invited to join their VIP team along with Brady and Nicki Brammer.  The other six teammates consisted of coworkers and friends from Rain Interactive.  Hence the name of our team, "Make it Rain!"
The Ragnar is a relay race where a team of 12 people get two vans and run 188 miles divided into 36 legs from Logan to Park City (also known as the Wasatch Back).  Each runner gets three legs where each leg varies in length from 3 to 9.6 miles and ranges in difficulty from Easy, Moderate, Hard, to Very Hard.
We rented an Acadia from the airport on Saturday Night and headed to Logan where we spent the night with some family friends, the Bryans.  We woke up and ate some french toast at Lindsey's parents' house. Sadly, Lindsey ended up with a confirmed case of Swine flu and she was unable to join us after the many hours she spent organizing and preparing our team to run Ragnar.  Luckily Lauren, Kellie's sister, was able to fill Lindsey's difficult runs.
Here's the Van 2 runner breakdown:
Runner 7 – Kellie Goff
Runner 8 – Nicki Brammer
Runner 9 – Lauren Goff
Runner 10 – Chase Brammer
Runner 11 – Brady Brammer
Runner 12 – Brady White
Distance Chart:
| | | | | |
| --- | --- | --- | --- | --- |
| 7 | 4 miles | Easy | 3.8 miles | Moderate | 4.6 miles | Easy | 12.4 miles |
| 8 | 3.4 miles | Easy | 7 miles | Moderate | 6.1 miles | Moderate | 16.5 miles |
| 9 | 3.5 miles | Easy | 9.6 miles | Very Hard | 3.6 miles | Very Hard | 16.7 miles |
| 10 | 3.5 miles | Easy | 7.7 miles | Hard | 4 miles | Very Hard | 15.2 miles |
| 11 | 3.8 miles | Very Hard | 7.3 miles | Hard | 7.3 miles | Very Hard | 18.4 miles |
| 12 | 3.1 miles | Very Hard | 5.2 miles | Hard | 5.1 miles | Easy | 13.4 miles |
We picked up Lauren in Ogden and headed to our first transfer point in Ogden Valley.  Kellie was the first runner and she started off great.  We had a tradition of stopping every one to two miles to give water, support, and an occasional butt slap.  Brady Brammer had a tough run which started our ascent to Snow Basin ski resort.  My leg followed his and I finished the 3.1 mile ascent to Snow Basin which had a 4.2% gradient (an 833 ft elevation gain in 3.1 miles).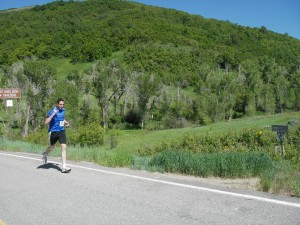 We then headed to the town of Morgan, grabbed some Subway sandwiches, and rested. Afterwards we headed to our exchange point, whipped out our sleeping bags, and attempted to take a nap before our next legs which would start at 10:30 pm.  The black sky dawned on us and Kellie put on her Headlamp and LED vest.  She had a tough run which she conquered with ease.  The rest of the runners followed.  At one point we thought we had lost Lauren.  Turns out she was running faster than we expected and her bobbing headlamp and LED vest passed us without us knowing.  I got about 45 minutes of sleep before it was my turn at 4 am.  I felt great and headed out on my run.  I have to admit, I thought this leg was going to be my least favorite but it turned out to be my favorite.  There is nothing like running 5.2 miles in the middle of the night.  Even the 450 ft elevation gain didn't dissuade my spirits.  I finished strong at 5 am and then we headed to our camp.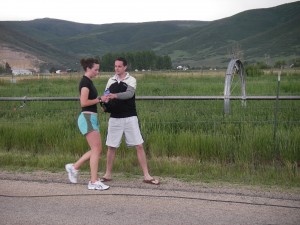 We pitched sleeping bags near a baseball diamond in Midway and I got about 2 hours of sleep before the other van was done with their runs at 9:30.  Kellie started us off strong as Lauren and Chase prepared for Ragnar Mountain.  Ragnar mountain has a 3,100 net elevation gain which the two had to conquer.  I was amazed at their sub 12 minute miles as Lauren and Chase conquered the muddy mountain in a downpour of rain.  Brady Brammer had a difficult 7.3 mile run coming down the Ragnar Mountain with the relentless downpour still mocking us.  His knees took a beating during a 600 ft net elevation loss over the course of one mile.  Miraculously the rain stopped as it was my turn to finish off the 188 mile relay through Park City.  My run was ideal, a 5.1 mile with a 460 net elevation loss with perfect weather.  With 50 yards to go, Kellie, Lauren, and Chase met me and we ran across the finish line together.