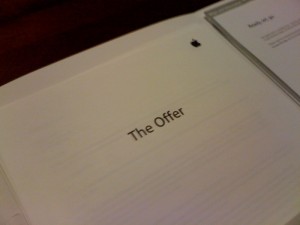 Apple decided to offer me an internship this summer. I'm headed to Cupertino (San Jose), California from May 24 – Aug 20. I will be doing software development for them, more specifically Java, J2EE development for their retail point of sale division. I was interviewed a total of 5 times, once on campus, two phone interviews, and two iChat video interviews. It was quite a process.
When the official offer came, it felt like I was opening my first iPod. The 3-fold pristine white offer with the Apple logo was exactly what you would expect from Apple.
Apple has an incredible company culture.  A fellow BYU MISM alumni stated "One year at Apple is like three years at any other company." I'm interested to see first-hand what Apple's internal processes are like.
Kellie will continue to work at KSL as a morning show producer and will be in California with me for 15 of the 90 days.  It will be tough not seeing her every day, but she will be coming out to visit almost every other weekend.
Working in Silicon Valley has always been on my to-do list, I can't wait to see what it is like.