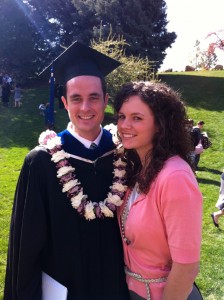 Three years ago I wondered when April 2011 was going to come.  This weekend I put on my cap, gown, and hood and joined 6000+ others at BYU's 2011 commencement ceremony.  I received my Bachelor of Science in Information Systems and Master of Information Systems Management degrees at the same time.  Here's a recap on my college career and why I chose this major.
How I Started
In 5th grade I did a report on computer programmers and knew this is what I wanted to do.  As I grew older I figured out how to make a web site for my Dad. He smiled wondering why anyone would ever use web sites.  When I had free time, I found myself making web sites and flash games which gave me the opportunity to learn how to program.  Ever since then I've had a passion for development and especially web development.
In high school my buddy Chase Brammer and myself made oremhighschool.com which we claim was Facebook before Facebook.  We had a picture directory, shout outs, and forums.  We had tons of students using it.  We also took second place in state for FBLA in the web site category and went to Dallas, Texas for nationals.  The only work I did during high school was making web sites for clients that my dad referred to me.
When I turned 16 my dad hooked me up with some MCSE classes at a local computer training company he consulted for.  I also got my Microsoft Certified Professional certification but realized I really didn't want to pursue computer networking and my MCSE. I took the first 3 tests and passed them, but I realized I didn't want to continue. I also earned my Microsoft Office User Specialist certification here.
My first real job was at Prudential Utah Real Estate making web sites for real estate agents. Then Rain called me and I did flash development for them and my first project was the LDS Hymn Player (which is used on BYU campus during every religion class and during church services).  I also got a chance to work on logomaker.com and did the payment processing inside flash.
Starting College
After high school I started college at Utah Valley University where I started off my major in Computer Science.  I took programming classes, Calculus II, and Physics.  For the most part I enjoyed my classes but I felt like something was a little amiss with my choice of major.
When I turned 19 in 2005 I took a break from work and school and served a mission for the LDS church by volunteering two years of my life to teach people in the Kennewick, Washington area about Jesus Christ.  While there I served in the mission office for seven months where I developed an information system to track all the key indicators of missionaries throughout the mission.  I developed reports of all kinds and my mission president loved it.  He knew exactly what was going on in his mission at all times.  At this point I realized how much fun it was to develop information systems and not just web sites.
Changed Major
In 2007 when I got home, I decided I needed to figure out which major fit me the best.  After talking with a school counselor she informed me about the information systems major and I felt like it was a better fit than computer science.  I changed my major and haven't looked back.   After talking with a friend I learned that BYU had an excellent information systems major and I decided to transfer.  In Winter of 2009 I was accepted to BYU.  However I had a dilemma.  I still had 2 classes at UVU before I had my associates and 3 classes at BYU before I could apply for my program.  So Monday and Wednesday I was at BYU taking three classes and Tuesday and Thursday I was at UVU taking two classes finishing my associates.  So yes, I've attended two universities at once.
Also when I got home I continued working at Rain where I worked on flash projects like Aspire (a poster and t-shirt designer), StudioJ (an online scrapbook builder), and Cricut Craft Room (the most complex web to print/cut solution probably ever created). During the summer I also received my Adobe Flex Certified Expert certification.
Information Systems at BYU
I was accepted into the Information Systems major at BYU for fall 2008.    I noticed a stark difference in the quality of education at BYU compared to UVU and was glad I made the decision to switch.
Fall Semester 2008
Systems Analysis
Database Systems
Prin of Business Programming
Business Processes & Controls
At this point I realized I my major fit me perfectly.  I loved designing systems, doing business programming (java), and working with databases.  Business process and controls was more about IT auditing which I wasn't very fond of and I'm glad I learned that quick.
Winter Semester 2009
Data Communication
Sys Design & Implementation
Enterprise Application Development
Info Systems Capstone Project
Winter Semester I got a 4.0 and again I realized how much I loved my major.  We had a semester long capstone project where we designed a car dealership management system.  We had to design the database models from scratch, create sequence diagrams for how data would be retrieved from the database, and finally we had to write all the code that would make our system actually work.  We worked in a team of four where each of us had to code it ourselves and then use the best code for our team project.  Our team used the majority of my code for our project and we got an A if that says something.
This semester I also decided I wanted to get my Master of Information Systems management degree.  That meant I had to take the GMAT and average a 640.  I took the GMAT once and I didn't do as well as I would have liked.  So on top of my full class load I took an Ace GMAT prep class.  After studying for 6 hours a week for 8 weeks I took the GMAT again and got a 640!
I also proposed to my wife Kellie during finals of Winter Semester.  This semester was by far my most difficult and most rewarding.

Spring Term 2009
Principles of Acctg 2
Swimming, Beginning
Principles of Statistics
Spring term I took the advanced accounting class and statistics to knock out some required classes.  I still remember the 5 hour accounting final I took on my birthday, that was a beast!  I married Kellie on July, 3, 2009.  I took summer term off for the wedding and honeymoon.
This summer I was accepted into the MISM program.   The MISM program is a 5-year integrated program where my senior year was replaced with graduate level classes.  The professors were better than the bachelors program and the students were top notch to work with.

Fall Semester 2009
Business Finance
Operations Management
Organizational Behavior
Marketing Management
Econ Principles & Problems
Management Seminar
My life as a graduate student begins.  The information systems major is in the Business School or the Marriott School of Management at BYU.  This semester we took our business management classes.  This included everything from finance to operations to organizational behavior to marketing. This is another reason why I love my major.  I wanted more of a business foundation than just programming.  These classes enlightened me to topics like operations processes, how important branding is, and how corporate culture should be.  My organizational behavior class really helped me realize what I wanted out of a career.  It was during this class that we studied work/life balance and the hiring process at Apple for a group project.  Apple was on campus recruiting so I figured I'd get a first hand view of the interviewing process for our paper.  I thought Apple would be a fun place to work but I had no idea if I would get past the first round of interviews.

Winter Semester 2010
Web Development
Data Mining for Bus Intel
Mobile Application Development
Project Management
Economics of Strategy
This was a fun semester.  I started developing NoteSync and developed the web site in my web development class (in ASP.net).  I developed NoteSync for iPhone in my Mobile Application Development class.  For my final project in Economics of Strategy I did a Michael Porter's five forces analysis on NoteSync entering the note taking market.  On top of this I also entered the Crexendo Online Marketing competition at BYU with NoteSync.com and took first place.  I loved how my major perfectly fit my passion for development and how it brought in the business side of development.
My least favorite class this semester was Data Mining where we did predictive analysis of record sets.  Project Management was enjoyable and I learned a lot about scope, schedule, and resources.

Summer Term 2010
Academic Internship
Five interviews later I ended up with an internship at Apple which I really enjoyed.  I developed a web based portal for the retail point of sale global monitoring system.  I learned the Mac OS  X operating system and J2EE development.  I was originally recruited to do Flex development, but that changed when Steve Jobs gave his thoughts on flash. This summer was difficult as Kellie stayed in Utah to produce the 6am news and I moved to California for the summer.  She came out every 2-3 weeks for the weekend.
Adobe notified me that I was a worldwide finalist in the Adobe Design Achievement Awards in the Application Development category for developing NoteSync.  Adobe flew me out to Los Angeles for the award ceremony and I also got to attend Adobe MAX for the first time.
Fall Semester 2010
Business Law
Strategic Management
Enterprise Infrastructure
Information Systems Security
Leading Change in Tech Environ
I read  every page of my business law book.  I really enjoyed learning the high level details of law.  We researched Comcast in my strategy class and we did a strategy simulation of companies in the microchip industry.  My team took first in the class and I placed in the 98 percentile in the nation for my individual simulation.  For enterprise infrastructure I had to develop a proposal to archive high quality pictures from around the world and store them securely for 100+ years.  I also learned the basics of windows shell scripting and bash scripting in *nix.  In my security class I did a research project on Firesheep where I successfully hijacked some Facebook accounts.  I learned asymmetric and symmetric encryption.  In my leading change class we studied 10 cases from companies like Cisco and Harley Davidson who implemented ERPs.  I learned what was successful and what wasn't.  Overall a great semester gaining more depth into the information systems world.

Winter Semester 2011
Ethics for Management
Mgt Consulting & Projects
Excel Spreadsheets
Managing New Ventures
The Doctrine & Covenants
My last semester at BYU.  We had our MISM capstone class which centered around user experience design.  I was nominated to be the team leader for the team of eight of us where we redesigned a web site from the ground up.  We found a client and wrote an engagement letter.  Then we developed a paper-based low fidelity prototype and had three people click on pieces of paper as we acted as the computer.  We wrote use cases for typical users to ensure the system was highly usable.   It was a great learning experience.  Once we developed a high fidelity prototype we moved it into WordPress for the finished product.
Managing new ventures was an excellent entrepreneurial class from Dr. Nathn Furr where I learned the basics of creating a business model.  The key takeaway was figuring out what your key assumptions are and then testing them as quickly and as cheaply as possible to know if your business model is valid.
What I'd change
From the begininning I would've started at BYU instead of UVU.  I would've still done the MISM program but minored in Computer Science.  The MISM program is excellent, but I would have liked more programming classes.
My advice to others considering Information Systems
There are TONS of development jobs out there!  If you love application development or systems engineering I highly recommend this major.  Everyone that is graduating with me is easily able to find a job even in this tough economy.
As far as BYU vs UVU, I highly recommend BYU.  The recruiting options at BYU are a head and shoulders above UVU.  The academic experience at BYU was definitely better than UVU.
Conclusion
The master of information systems major fit me perfectly.  I love development and business and this was a perfect mix of both.  I couldn't be happier with my choice of major and how it has prepared me for my career.  I highly recommend this major to anyone out there who has similar passions as myself.