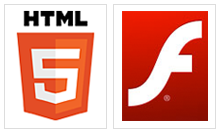 Adobe made the right move regarding Flash for mobile browsers.  When I first saw flash on mobile, I knew something was wrong.  It wasn't fast.  It wasn't… right.
Our future work with Flash on mobile devices will be focused on enabling Flash developers to package native apps with Adobe AIR for all the major app stores.
When I developed NoteSync in AIR, I had the option to port the code to AIR for mobile, but I didn't.  I decided it needed to be written from scratch in Java for Android. It was the right choice.  You have to make a native app for mobile to provide the best user experience. When you develop in flash and package it for native, it just isn't as fast.  My guess is in a year or two Adobe will stop continuing support for their native app packager.
In the long-term, we believe HTML5 will be the best technology for enterprise application development. We also know that, currently, Flex has clear benefits for large-scale client projects…
As far as HTML 5 versus Flash for PCs, its simple.  Flash has better support for more advanced features.  HTML 5 can support basic features right now. I estimate HTML 5 will be able to provide most of the necessary features of Flash in about 3-4 years. What this means is you can't simply take flash off the table as an option right now.  At this point I'd still recommend Flash over HTML 5 for any complex rich internet application.  I would only recommend HTML 5 for simple web apps.
…We are planning to contribute the Flex SDK to an open source foundation…
Adobe donating Flex SDK to an open source community was definitely the right move. Given Adobe's shift in allocating resources away from Flex to HTML 5, donating to the community was the best option to keep Flex alive.
Given our experiences innovating on Flex, we are extremely well positioned to positively contribute to the advancement of HTML5 development
I agree, Adobe is very well positioned to be the leader in HTML 5 development tools.  They will take everything they've learned from developing Flash and apply it to HTML efforts.
My History
I have used Flash for 11 years starting with Flash 5. It was the best technology to provide interaction on web sites for its time. I lived through it all: the flash intro that everyone hated, all flash web sites, flash ads, flash gaming, the rise of flex for RIAs, Adobe InMarket's failed app distribution portal, and now Flash for mobile.  I worked for 5 years at Rain, a digital interactive agency, developing rich internet applications in Flash and Flex.
Steve Jobs' Thoughts on Flash had a direct impact on my career much the same way his statement has affected the world.  I accepted an internship for Summer 2010 in December 2009 where the primary technology I'd be using at Apple was Flash.  Steve's Thoughts on Flash came out in April 2010 and as a result, I didn't use Flash at Apple.  The same way my career was affected, the world is starting to shift away from Flash.
Conclusion
All I ask is that the community give its respect to Flash for what it is, and don't blindly dismiss it right now because its the hip thing to do. This is a time of transition from Flash to HTML 5.  Make the right choice for your next project based on facts between Flash and HTML 5. Don't use emotion.
Additional Reading
My thoughts were sparked from reading The Industry Thoughts on Flash.  Read it to get the industry's real perspective on Flash.
Mike Chambers, principle product manager of the Flash Platform, wrote an excellent article about Adobe's decision.