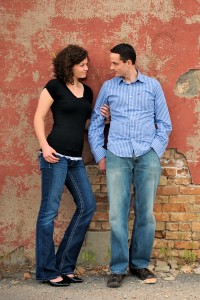 Hi.  My name is Brady White.   I'm passionate about developing apps.  I love clean code.  I love beautiful user experiences. Currently I'm at Apple as a Software Engineer doing server side Java for an iOS app.
My experience includes working on incredibly complex scrapbooking solutions like Cricut Craftroom and StudioJ, web-to-print apps like HP's Logomaker, and product designers like Aspire. On my own I developed NoteSync which won an online marketing competition, and made me an Adobe worldwide finalist in application development.
After a year of pitching woo, Kellie said 'Yes' as I got down on one knee in front of the Salt Lake Temple after we watched a Rachmoninov Concerto with the Utah Symphony.  We were married on July 3rd, 2009 in the Salt Lake Temple.  Kellie works at NBC Bay Area morning news as a TV content producer.
I graduated with a Master of Information Systems Management degree from BYU along with my Bachelors in Information Systems from BYU.  I loved my time there which prepared me for what I love doing.
When I'm not coding, I'm on the tennis court imitating Djokovic by wearing his shoes. Coldplay is my favorite band to sing and play on the piano.  Golf is what I enjoy playing with my brothers and my dad. One marathon, three half marathons, and a Ragnar Relay are under my belt.  I hope to do a sprint triathlon one day as well as the Big Sur Marathon.
You should follow me on twitter here.